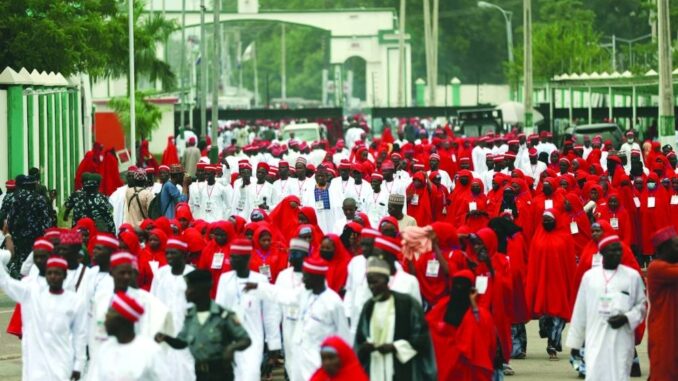 The authorities in Kano State have organized and financed wedding ceremonies to help the less fortunate get married, as marriage is too expensive for many Nigerians in the current economic crisis.
"I pray that my marriage will become the key to my prosperity", says Yusuf Abdullahi, a 30-year-old shopkeeper who married his beloved last Friday in Kano State (northern Nigeria), like 1,800 other couples. Scheduled for months, these wedding ceremonies are organized throughout the state and fully funded by the local government to help the poorest people in a country hit hard by the economic crisis to marry.
On Friday October 13, Yusuf spent part of the day at the central mosque in Kano, the capital of the state of the same name, where he attended the religious rites, among nearly 400 brides-to-be decked out in white ensembles and red bonnets. As did their wives, dressed in long dresses with red veils, in the part of the mosque reserved for women. Outside, a crowd of over a thousand gathered around the building to celebrate the event.
The following day, a reception to celebrate the weddings was held at the state governor's residence, where the 1,800 couples from all over the region converged in the morning. "Life is really difficult, that's why I haven't been able to get married until now," confides Yusuf. At the Governor's residence in Kano, the couples were paraded one by one before the Governor, who presented the bride with her dowry and "start-up capital", as well as a copy of the Koran. The other gifts (bed, chest of drawers, wardrobe, foodstuffs) were waiting for them outside, lined up in the courtyard.
For these 1,800 couples, the Kano government paid the dowry of 50,000 naira (62 euros) and donated furniture and foodstuffs, including a bag of rice, a box of pasta and a tin of cooking oil.
The local authorities also gave each wife a grant of 20,000 naira (25 euros) "as start-up capital to launch a small business", after enabling them to take part in a day of vocational training on Thursday. The idea is to "empower young brides because life has become so expensive".
During the ceremony, the 1,800 couples were required to sign a pledge not to divorce without the consent of the Islamic police, to whom they would have to submit their "differences", according to Mr. Sufi. According to Mr. Sufi, the organization of this collective wedding cost Kano State around 900 million naira (1.10 million euros).