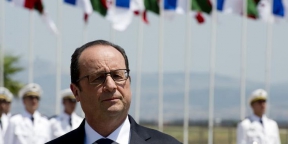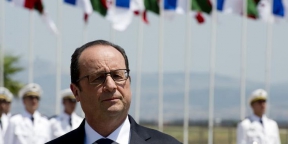 French president François Holland on Monday congratulated Algiers for its role in the region as a peace broker.
Shortly after arriving in capital city Algiers for a few-hour visit, President François Holland met with the Algerian President Abdelaziz Bouteflika.
The two leaders discussed cooperation between the two countries in the fight against terrorism and the situation in the region with a special focus on the Libyan crisis.
President Bouteflika underlined in this respect the need for Algeria to help Libya, a brotherly country, to recover from its ailing situation.
"Libya is a friend that deserves better than military operation," Bouteflika told French media.
Both Presidents also expressed satisfaction over the military and security cooperation regarding terrorism. President Holland said terrorism is "a common fight" for the two countries.
Paris and Algiers have developed deep cooperation in the area of exchange of intelligence on Jihadist militants.
Algiers was able to track militants responsible for the kidnapping and the death of French tourist Herve Gourdel who was abducted by the terrorist group called Jund al-khilafa in September last year.