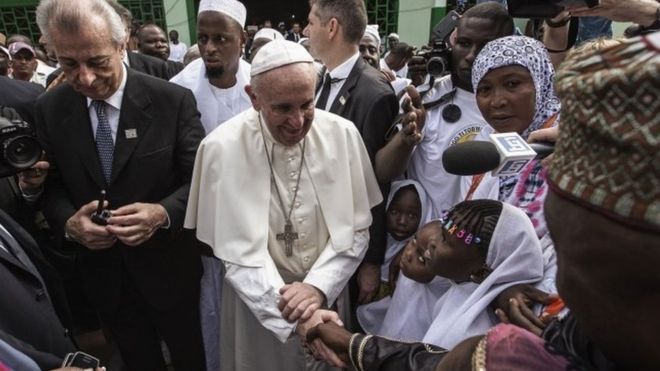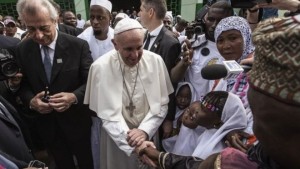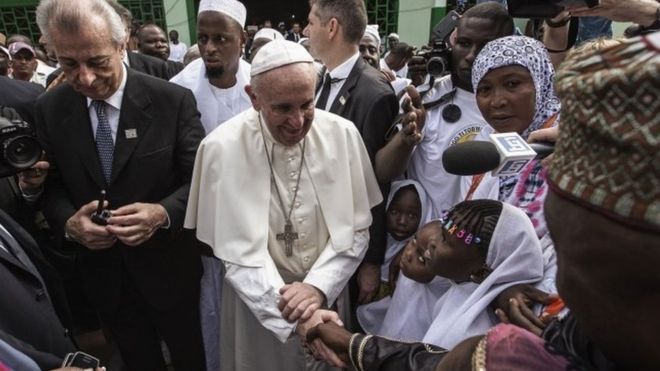 The last leg of Pope Francis' three-nation African tour took him Sunday to Central African Republic (CAR,) a country where thousands of people have been killed since 2013 in fierce fighting between Muslim and Christian militias.
The Holy Father who arrived in capital city Bangui on Sunday visits on Monday a mosque in a Muslim enclave, known as PK5, where as many as 100 people have been killed in an upsurge of violence over the past two months.
"Christians and Muslims are brothers and sisters," he told people who had crowded inside the mosque.
"Together, we must say no to hatred, to revenge and to violence, particularly that violence which is perpetrated in the name of a religion or of God himself. God is peace. Salaam," he added, using the Arabic word for peace.
On Sunday, the 78-year-old pope told fractions to lay down0 their weapons'.
"To all those who make unjust use of the weapons of this world, I make this appeal: lay down these instruments of death! Arm yourselves instead with righteousness, with love and mercy, the authentic guarantors of peace," he said at a mass in the cathedral in Bangui.
The Pope on Sunday visited a camp in Bangui and told its nearly 4,000 residents, most of whom were chased from their homes by armed Muslims, that "peace without love, friendship and tolerance is nothing.
"I appeal to all sons and daughters of this country to unite and to make peace."
Earlier, he said he hoped next month's election in the CAR would open a "new chapter" for the country.
Both the Christian majority and Muslim minority have welcomed the pope's visit, hoping he can spur renewed dialogue and help restore peace.
Pope Francis' arrival in Central African Republic follows visits to Kenya and Uganda that began on Nov. 25. It is his first official trip to Africa since he became Pope almost three years ago.