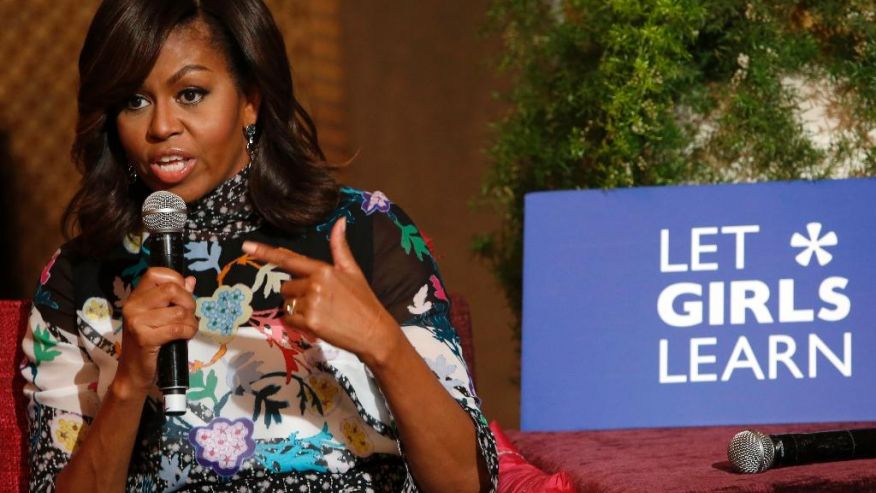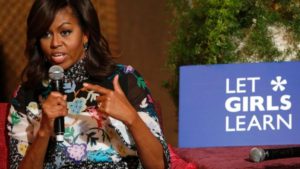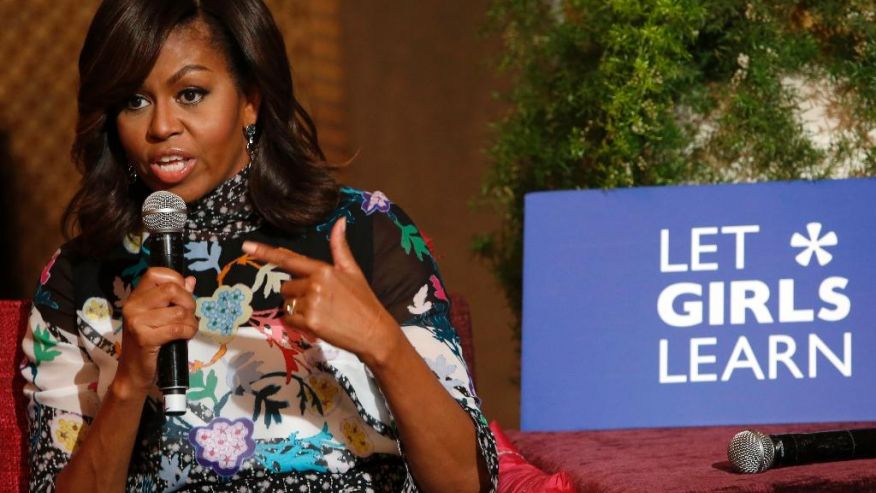 First Lady Michelle Obama is paying a visit to Morocco to promote the Let Girls Learn initiative she launched together with President Obama in March 2015.
On the sidelines of the First Lady's visit, the U.S. government announced, on Tuesday, new investments to promote girls' education in the North African country.
Michelle Obama, who was greeted by Princess Lalla Salma, spouse of King Mohammed VI, upon arrival in Marrakech Monday night, participated on Tuesday in an exchange with Moroccan teenagers. The exchange was moderated by CNN's anchor Isha Sesay and was attended by American actress Meryl Streep and Indian actress Freida Pinto, who are both advocates for girls' education.
Michelle Obama pledged on this occasion to tackle school exclusion of girls worldwide, saying, "We will emerge together as a group of women to tackle this exclusion," which affects some 62 million girls around the world.
The White House said the new programming in Morocco announced on Tuesday by the U.S. Government is "to help address the unique barriers that prevent girls' access to an education. Through these programs, the U.S. Government hopes to improve the future for adolescent girls in Morocco."
Part of this new programming, the Millennium Challenge Corporation (MCC,) a foreign-aid agency, announced a nearly $100 million investment in a new model for secondary education in Morocco.
In partnership with the Moroccan Government, the MCC investment is expected to benefit about 100,000 students, including 50,000 adolescent girls through activities that will address the particular learning needs of adolescent girls, says the White House in a press release.
The MCC investments seeking to transform secondary education will finance, among others, mentoring programs, internships, after-school clubs, upgrading bathrooms and changing rooms for girls and gender responsive training for teachers and administrators to transform the way curriculum is delivered and how schools are managed.
A new $4.6 million Education for Employability Partnership Fund, included in this investment, will engage the private sector and NGOs to develop innovative programs for middle and high school students that address the unique needs of girls and work to reduce social and gender inequalities in Morocco, the White House says.
The U.S. Agency for International Development (USAID) on its part announced a new $400,000 investment in a local NGO to establish five new girls' dormitories (known locally as "Dar Talibas") to provide housing and support for rural girls to continue their education. The new dormitories are expected to be ready by the next school year.
According to the White House, the First Lady said:"I am so proud that the U.S. is working with the Moroccan Government to make these transformative new investments to educate and empower girls across Morocco – investments that will help these girls succeed in the workforce and fulfill their boundless promise."
The Let Girls Learn initiative aims at ensuring adolescent girls across the world attain a quality education that empowers them to reach their full potential. The initiative brings together the USAID, the Peace Corps, and the Millennium Challenge Corporation to address the range of challenges – both in and out of the classroom – preventing over 62 million girls from getting the education they deserve.
Before coming to Morocco, Michelle Obama paid a similar visit to Liberia and is expected in Madrid on Wednesday to highlight new commitments to support Let Girls Learn initiative.