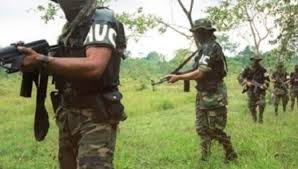 It is no secret that several Polisario members have been involved in all kinds of trafficking ranging from goods and cigarettes to drugs and weapons.
The Polisario's collusion with an infamous Colombian paramilitary emerged again this week, following the death of this gangster, Iván Roberto Duque Gaviria, aka Ernesto Báez.
According to one of his relatives, who requested anonymity for security reasons, Ernesto Báez was in direct and close contact with members of the Polisario who were roaming in Latin America.
Their business together consisted in conveying drugs from Latin America to the Sahel-Sahara region and then export the banned substance to Europe, Ernesto Báez's relative revealed.
Trafficking networks were set up for the transportation of drugs, he said adding that trafficking generated millions of dollars.
According to US experts, Jihadist groups, affiliated with al-Qaeda or the Islamic State, and drug cartels from Latin America have collided to transport more drugs, weapons and human beings through the Sahel-Sahara region, where the Polisario plays the role of the godfather of outlawed gangs.
Ernesto Báez, paramilitary leader and onetime member of the demobilized United Self-Defense Forces of Colombia (AUC), is reported to have died of a heart attack in Medellin Tuesday. He was 64.
After he served a ten-year prison sentence, the former paramilitary leader was released in 2016, under the Law of Justice and Peace of Colombia. The sentences handed to guerrillas, paramilitaries and police agents were alleviated for those who recognized their crimes during the armed conflict and agreed to compensate their victims.
Ernesto Báez had acknowledged his responsibility in at least 1,800 crimes (disappearance, torture, illegal financing,etc.)