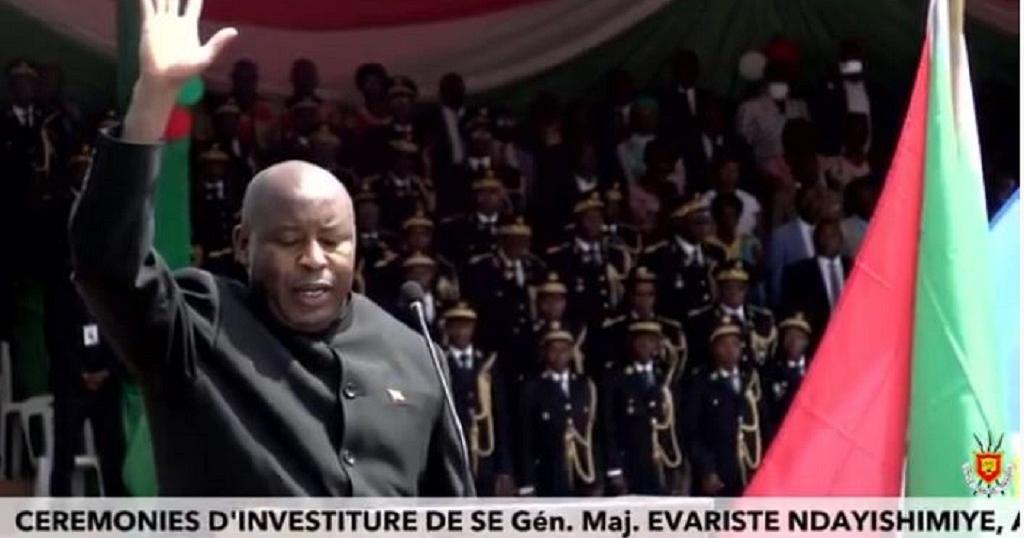 It was at the Gitega stadium that the new Burundian president was sworn in Thursday, in accordance with Article 107 of the Constitution.
"Before God the Almighty, before the Burundian people, the sole holder of national sovereignty, I, Évariste Ndayishimiye, President of the Republic of Burundi, swear allegiance to the Charter of National Unity, the Constitution of the Republic of Burundi, and the law," said the Head of State taking the oath in the Ingoma stadium in Gitega, the administrative capital of the country, preceded by the drums of Burundi.
The stadium was overflowing, filled little by little since the morning by thousands of Burundians.
This ceremony was held in a special context due to the health situation related to the coronavirus pandemic, which prevented any foreign Head of State from attending.
The authorities had asked the public to arrive early enough to comply with the health measures in place, such as hand washing and temperature taking. However, the safety distance, set at 70 cm between people, was far from being respected. And apart from a few officials, including representatives of Burundi's 19 provinces, hardly anyone wore a mask. Évariste Ndayishimiye himself had his face uncovered.
"Be not afraid, for I know what awaits me. I have come to strengthen Burundi's independence and sovereignty, the freedom of all Burundians and to protect them in their dignity," declared the new Head of State in his speech. "Let the international community no longer interfere in such matters as it used to do for other reasons, because this is my concern."
Three concrete announcements were made in his speech of almost two hours. Ndayishimiye promised to build seven dams, a hospital for each of the country's 119 communes, as well as free health care and a pension equal to the last salary for civil servants.
Elected in the presidential election of 20 May, he was initially due to take office on August 20, at the end of Pierre Nkurunziza's term. The sudden death of the latter on June 8, at the age of 55 after 15 years in power, officially of a cardiac arrest, changed the situation.