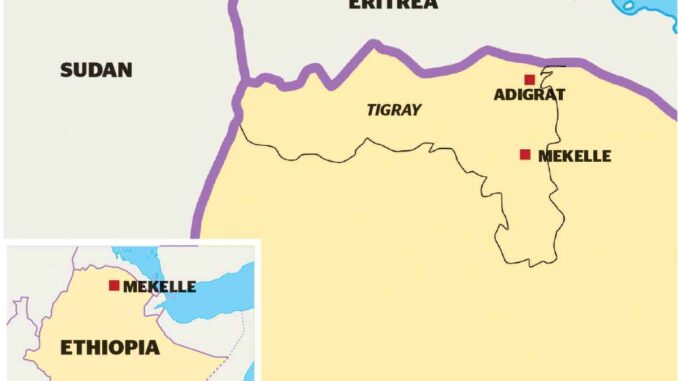 More than a month after the outbreak of the conflict in Tigray province on 4 November, a little more is now known about the role played by neighboring Eritrea. Several sources confirm the active participation of the Eritrean army in the fighting against the TPLF, the dissident party that ruled Eritrea, despite denials from both capitals.
From the start of the fighting in Tigray, witnesses in Eritrea spoke of large movements of troops towards the border. Eritrean families reported that their loved ones were mobilized as a matter of urgency. Refugees from the town of Humera, who had crossed the border into Sudan for safety, also explained that the artillery cover that dislodged the SPLA fighters came from the Eritrean side of the border.
But with telecommunications cut off and access to the war-torn province denied to the press and aid workers, it was impossible to confirm the direct involvement of Eritrean troops in the conflict, while both Asmara and Addis Ababa were content to deny it, when they did not simply refuse to respond to requests.
The involvement of "thousands of Eritreans" was confirmed Tuesday by an American government source to the Reuters agency. "It seems that there are no more doubts," explained this source, relying on satellite images, interception of communications and human intelligence. This information was also confirmed by a diplomatic source in Addis Ababa, who said that Asmara's troops are "fully committed inside Tigray".
This commitment has even been clarified by former Eritrean Defence Minister Mesfin Hagos, relying on local sources, according to which about ten infantry units and at least four mechanized units of the Asmara army are currently fighting in Ethiopia, as well as a commando unit.
Finally, Eritrea also serves as a fallback and rear base, hence the multiple rocket fire by the TPLF, notably at the military airport of Asmara. According to our colleagues at Radio Erena, the hospitals of Senafe, Adi Kiey, Tessenei, Keren, Barentu and Dekemhare are full of wounded and dead brought back from the front. A blood donation campaign was launched by the Eritrean government last week.