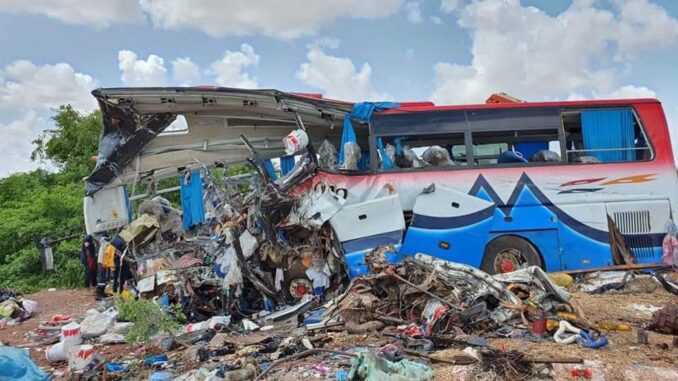 A traffic accident occurred late this morning on the Bamako-Ségou road between a passenger bus and a goods truck. The provisional toll is 37 dead and many seriously injured, according to the Ministry of Transport. The Ministers of Transport and of Security went to the scene.
Thirty-seven people were killed and several others injured Tuesday in a traffic accident near the central city of Segou, the Malian government said. "37 dead and seriously injured. This is the provisional toll of a road traffic accident that occurred this Tuesday in Zambougou, 20 km from Segou," the government wrote on Twitter, without specifying the circumstances.
According to details provided by Douba Dembélé, an agent of the Segou town hall who was contacted by telephone and who went to the scene, the right front tire of the big truck had a flat tire in full traffic. This incident caused the truck to deviate from its trajectory, causing the driver to lose control of the vehicle and the fatal collision with the bus.
The assistance of the civil protection elements allowed them to take care of the injured who were transported to the Nianakoro Fomba hospital of Segou and to extract the remains from the rubble.