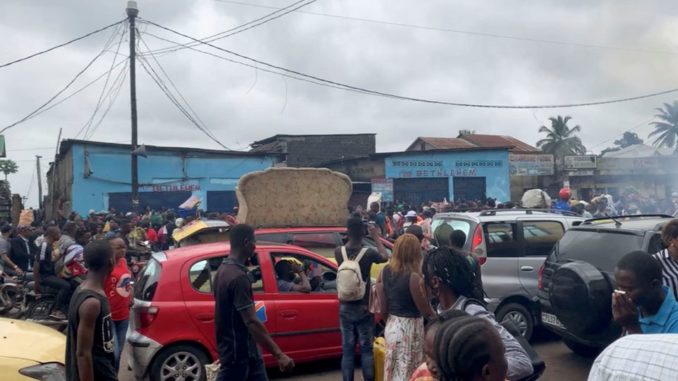 Twenty-six people were electrocuted on Wednesday, February 2, when a high-voltage power cable broke loose from two pylons that run through a market in the south of the capital Kinshasa. According to authorities, the powerful and antiquated electricity conductor was severed by a lightning strike as rain fell on the megalopolis. The victims are mainly women vendors of this market. There are 24 among the victims. The emotion is total after this drama.
The electric discharge occurred at peak hour in the market of Matadi Kibala. At 7 a.m., Mireille was selling her spices. She found herself on a hospital bed, looking exhausted. "Many of us were immobilized by the electrical power. I was inert. I don't know how I ended up in that bed.
These women sobbed around bodies lying in puddles with fresh produce strewn about. Chantal has identified the remains of her older sister. "Why didn't the authorities interrupt the supply of electricity knowing that the rain was heavy this morning?
As for the responsibilities, the authorities are pointed at. Oscar lives not far from the scene of the tragedy. "The state waits until there are deaths so that it can show up as a benefactor, pick up the bodies and take them to the morgue to take care of the funeral. That's not what the problems are."
In this chaos, the authorities followed one another to the scene of the tragedy. First, Prime Minister Jean-Michel Sama Lukonde, a host of public authorities including the governor of Kinshasa, and then at the end of the day… President Felix Tshisekedi. He ordered that the state pay for the funeral expenses of the victims and instructed the governor to speed up the process of relocating the market.