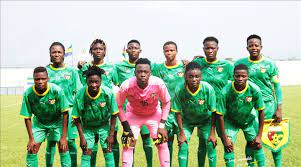 The twelve teams that will play in the next African Women's Cup of Nations (CAN 2022), scheduled for July 2-23 in Morocco, are known. Burkina Faso and Togo will play for the first time in this competition, while Algeria has failed in the last round of qualifying, this February 23, 2022.
The first African Women's Football Cup of Nations with 12 teams will be played with South Africa, Botswana, Burkina Faso, Burundi, Cameroon, Morocco (host country), Nigeria, Uganda, Senegal, Togo, Tunisia and Zambia.
The CAN 2022, scheduled from July 2 to 23, will see the debut in the finals of the Botswana, Burundi, Burkina Faso and Togo. The latter have qualified for the tournament on the field of Gabon (2-1 victory in the first leg and in the return). Gabonese women who were also running after a first participation in the women's CAN.
A total satisfaction for the Togolese team. "You have done it, dear Éperviers Dames! You have qualified Togo for the CAN Morocco 2022. Congratulations to you and thank you for the sacrifice and this heroic historical qualification obtained against all odds. Thank you to the Togolese government, the FTF, the technical staff, the media and the Togolese sporting public," said Minister Lidi-Bessi Kama.
"All my congratulations to the Éperviers Dames for this historic qualification of Togo to the next women's CAN. Thank you to the staff for the excellent technical supervision. The best is yet to come. Let's go!", rejoiced for her part the Prime Minister Victoire Dogbé, a few minutes after the historic match of her compatriots.
And the first official of the FTF, Guy Akpovy promised "to ensure that a warm welcome will be reserved for the Eperviers Dames on their return to Lome via Cotonou.