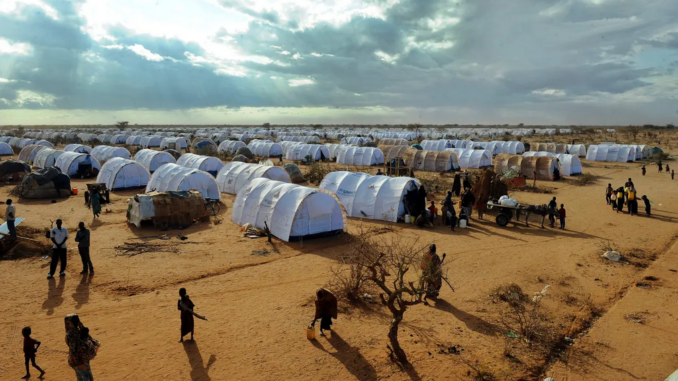 Tens of thousands of additional refugees from Somalia are expected to arrive in Kenya in coming weeks, aid groups in the country warn, as Somalia and the Horn of Africa deal with an ongoing severe drought and hunger.
The International Rescue Committee (IRC) says 55,000 Somali refugees already have arrived in Kenya's Dadaab camps over the past year. The camps in northern Kenya are currently home to about 230,000 people, most of them Somalis who fled conflict and hard living conditions over the past few decades. The camps are now receiving drought victims who have been affected by the drought, which is synonymous with malnutrition, and who thus urgently need food and medicine. Agencies are expecting another 60,000 arrivals over the next six months.
Some of the refugees lived in Dadaab previously, went back to Somalia, but returned when life in their homeland became unbearable again because of the worsening drought. Many lost their livestock, often goats and cows, in the drought, which has prompted them to seek safety and some food in the camp. But those living in the camp face overcrowding, poor sanitation and inadequate access to essential services. The camp has recorded cases of measles and cholera, and aid agencies fear the crowded conditions will encourage further spread of diseases.
Even as the Somalis are expected to flee the country due to the severe drought and hunger, the atmosphere has been aggravated by the witnessed surge in Al-Shabaab attacks from across the regions of Somalia worsening possibilities of humanitarian interventions. The Al-Qaeda affiliated branch in Somalia is cited to exploit this crisis to win more members in the perceived strongholds by possibly making small interventions of food distributions to the destitute and vulnerable citizens.