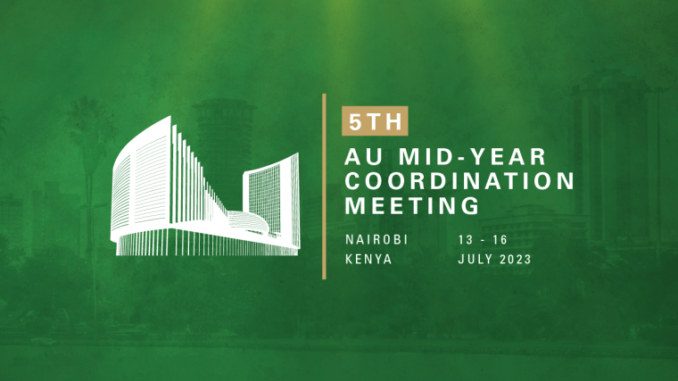 Taking stock of regional integration on the African continent: that was the aim of a summit that came to a close on Sunday 16 July in Nairobi, Kenya. Several Heads of State, ministers and delegates gathered for the 5th coordination meeting between the African Union, the regional economic communities and regional mechanisms. The Presidents of the Comoros, Kenya, Egypt, Senegal, the DRC, Djibouti, Gabon and Nigeria were in attendance. While sub-regional economic integration was at the heart of the programme, security issues also featured in the discussions.
Azali Assoumani, President of the Union of the Comoros and current Chairman of the African Union, deplored in his opening speech an Africa "plagued by division and bloody conflicts". In particular, he cited the crisis in the east of the DRC, a conflict which he said was "destabilizing the region, if not the whole of Africa".
Congolese President Félix Tshisekedi discussed this very situation with Kenyan Head of State William Ruto on the fringes of the meeting in Nairobi. They remain "optimistic", according to the Congolese presidency.
The war in Sudan was also discussed Sunday. Speaking to the press, the African Union's Commissioner for Political Affairs, Peace and Security, Bankole Adeoye, stressed the urgent need for a "permanent and unconditional" ceasefire. Recalling that previous attempts had failed, he called for a coordinated diplomatic response. Notably between the African Union and Igad, the East African Development Authority. The Kenyan President also indicated on Twitter that he had discussed the Sudan crisis with the Egyptian head of state on Sunday. The two, along with other countries, will "work to put an end to the conflict in Sudan", said William Ruto.
In a statement, President William Ruto also called for an "urgent" ceasefire in Sudan. He explained that he had spoken on the phone to General al-Burhan on Saturday evening, as well as to the President of the transition in Chad, Mahamat Idriss Deby Itno.