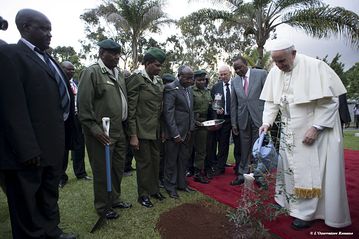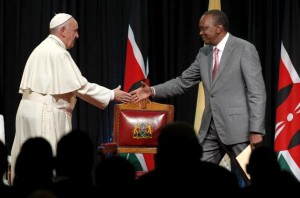 Pope Francis on Wednesday started an African tour, his first to the continent since his papacy began almost three years ago.
During his three-nation tour, he will address a fast-growing Catholic population and seek to heal Christian-Muslim divisions.
The Holy Father who arrived in Kenya on Wednesday will afterwards visit Uganda, also victim of Islamist militant attacks like Kenya, and the Central African Republic.
In a speech delivered shortly after arriving in Kenya, the 78-year-old pontiff called for dialogue between religions.
"Experience shows that violence, conflict and terrorism feed on fear, mistrust, and the despair born of poverty and frustration," he said in a speech broadcast on national television.
"Ultimately, the struggle against these enemies of peace and prosperity must be carried on by men and women who fearlessly believe in, and bear honest witness to, the great spiritual and political values which inspired the birth of the nation."
Francis urged Kenya's political, social and economic leaders to work with "integrity and transparency" for the common good, a clear reference to Kenya's poor record with corruption, and to foster a spirit of solidarity.
"I ask you in particular to show genuine concern for the needs of the poor, the aspirations of the young, and a just distribution of the natural and human resources with which the Creator has blessed your country," Francis Urged.
The Pope will head to Uganda on Friday and is expected in Bangui, Central African Republic, on Sunday.