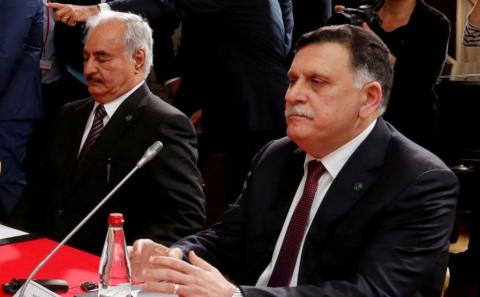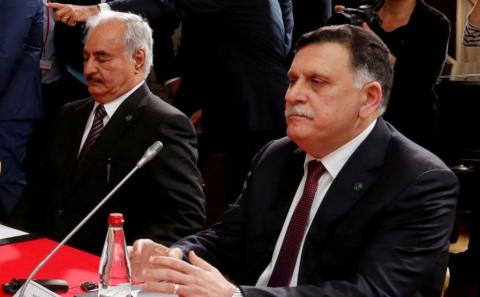 Several African Leaders are heading to Brazzaville, in the Republic of Congo, to take part in a high-level African Union committee meeting on Libya this weekend.
The third meeting of the African Union(AU) on Libya,  chaired by Congo's Denis Sassou N'Guesso, is part of efforts seeking a lasting solution to the conflict in Libya and to break the political stalemate, which is preventing implementation of the UN-brokered deal reached in 2015.
The committee, which comprises nine countries: Niger, Mauritania, the Republic of Congo, South Africa, Sudan, Chad, Egypt, Algeria and Tunisia, will be attended by a number of Libyan leaders, and leaders from the Arab League.
The North African oil-rich nation has descended into chaos since the 2011 ouster and death of former leader Muammar Gaddafi.
On July 25, French President Emmanuel Macron, trying to play the peacemaker, arranged a meeting in France between the two main rival leaders in the chaotic nation.
Libyan Prime Minister Fayez al-Seraj and the commander of the Libyan National Army Khalifa Haftar agreed in principle at this meeting on a ceasefire, early elections and a negotiated political settlement based on the Libyan Political Agreement (LPA).
French Foreign Minister Jean-Yves Le Drian visited Tripoli, Misrata, Benghazi and Tobruk on September 4 in follow-up to the Celle-Saint-Cloud declaration of July 25 in order to encourage dialogue and to support the mediation efforts of Special Representative of the UN Secretary-General for Libya Ghassan Salamé, whom he met in Tunis on the eve of his trip to Libya.
The French Foreign Minister thus met with Prime Minister Fayez Serraj, President of the High Council of State Abdulrahman Asswehly, Speaker of the Tobruk-based House of Representatives Aguilah Saleh, General Khalifa Hafter, as well as the mayor of Misrata and civilian and military representatives, including those involved in operation al-Bunyan al-Marsous which led to the liberation of Sirte.
According to French official sources, Serraj and Hafter confirmed their commitment to upholding the points agreed upon in the July 25 declaration.
During the visit, Le Drian announced to the Libyan authorities a new $1 million contribution to the Libya Stabilization Fund as well as humanitarian and stabilization projects in the areas of mine clearance and the rehabilitation of the war wounded.