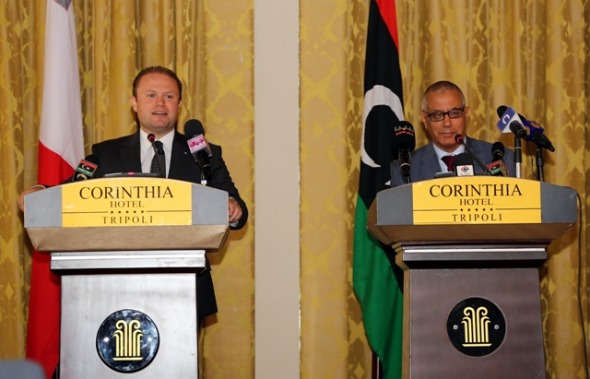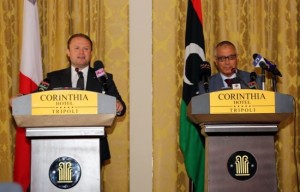 The Prime minister of Malta, Dr. Joseph Muscat, accompanied by a delegation of four other ministers dwelled on a variety of issues with his Libyan counterpart Ali Zeidan, during his first official visit to Libya.
The main talking point was undoubtedly about oil and a potential deal for exportations to Malta. The contentious issue of oil exploration and the dispute over their maritime borders on the other hand were not made mention of during a joint press conference. The visit according to Dr. Muscat was a success and is expected to bare fruits in the not too distance future. His Libyan counterpart has accepted his invitation to reciprocate the visit and encouraged the expansion of their trade ties to encompass the sectors of tourism and construction.
Another issue discussed was the incessant flow of migrants and asylum seekers who use Libya as a springboard in their quest to reach the shores of Europe. Mr. Zeidan insisted on the need for foreign assistance and stressed on Libya's efforts with neighboring states Chad and Niger in stemming the flow of immigrants. Travel visas were also brought up during the talks, and the two parties were in unison on the need to accelerate the process. Malta being part of the Schengen area has restriction concerning visa policies, according to Dr. Muscat, but nonetheless stressed that his government would endeavor to enact the necessary changes to speed up the issuance of visas for Libyan citizens traveling to Malta.
There was no mention of a similar gesture from the Libyan side, as calls were made by Malta for the lifting of visa requirements for Maltese nationals traveling to Libya.