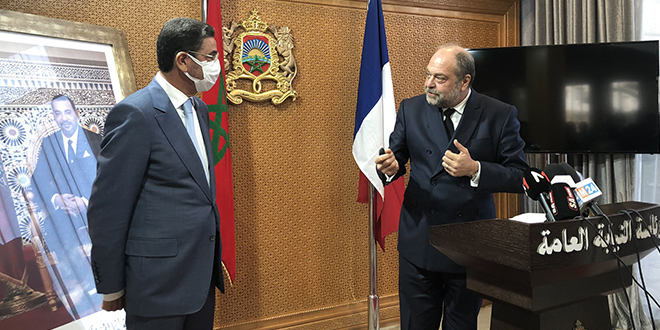 French Justice Minister Eric Dupond-Moretti stressed the need for building on French-Moroccan cooperation assets to further expand the scope of bilateral coordination in the fields of the judiciary and counter terrorism.
"France and Morocco are cooperating effectively in the fight against terrorism," he said at a press briefing following talks in Rabat Monday with the Public prosecutor at the Court of Cassation, president of the Public Prosecution, Mohamed Abdennabaoui.
In this respect, the French minister also highlighted that France and Morocco cooperate in a single framework together with Spain and Belgium.
After highlighting the headway made by Morocco in reforming its judiciary, Dupond-Moretti highlighted in particular the creation of Morocco's Prosecutor's office three years ago which he described as "an essential, unavoidable and valuable interlocutor for France."
The French minister also signed with Morocco a deal which enables Moroccan and French prosecutors to work hand in hand on the issue of unaccompanied minors.