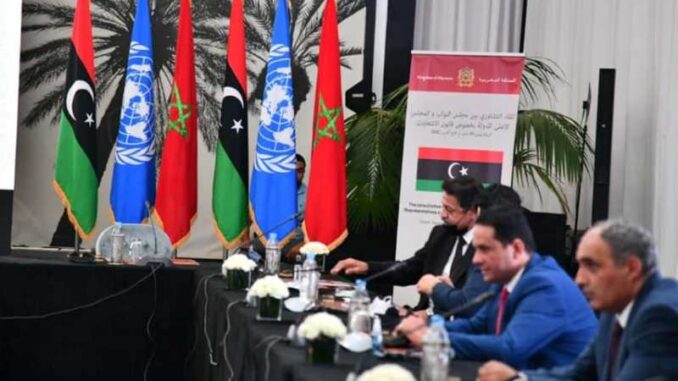 Morocco hosted a new round between the higher state council and the Libyan parliament focusing on the provisions of Libya's legislative and presidential elections.
The international community hopes that Libyan rivals will agree on terms to organize elections on December 24 in order to help the country overcome current infighting and institutional split.
The participating delegations issued a statement saying the Rabat meeting on Sept. 30-Oct.1 is a continuation of the momentum created by the Skhirate agreement in 2015, adding that current talks aimed at finding common ground for holding Dec. 24 elections in a spirit of consensus.
"Talks took place in a friendly and brotherly atmosphere marked by mutual understanding and consensus," the Libyan delegations said in a statement.
Morocco has often said that it was ready to offer Libyans conditions propitious for finding a purely Libyan solution to the current crisis without foreign interference.
US Envoy to Libya took part in Rabat talks and voiced hope to see Libyan rivals reach an agreement in two weeks on elections.
The US Ambassador Richard Norland said that the representatives of both sides are committed to laying the constitutional foundations paving the way for the holding of these elections as planned.
The US diplomat thanked Morocco for hosting this new inter-Libyan meeting, in addition to the previous ones held in Skhirat, Bouznika and Tangier. He expressed hope that the efforts deployed by the Kingdom and the UN would lead to the voting and the formation of a unity government for the return of peace and stability to this country.
"We call on the international community to support the electoral process in Libya according to mutually-agreed laws and on the basis of the conclusions of the Libyan political dialogue," the participating delegations said in the statement.
They also urged the international community to "guarantee abidance by the results of elections through sending international observers to oversee the good proceedings of these elections."
The delegations expressed gratitude to Morocco for hosting the talks and for supporting the Libyan people in achieving peace and stability in Libya.