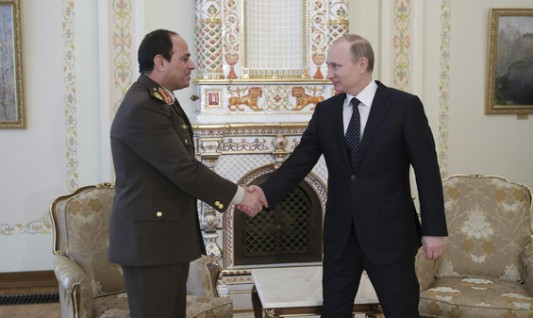 Russia and Egypt are determined to strengthen their bilateral ties and further reinforce their military and trade cooperation. The Presidents of the two states met in Russia making it the first official presidential visit of Abdel Fattah al-Sisi to the country. Discussions with Vladmir Putin centered on arms delivery, the establishment of a Russian industrial zone near the Suez Canal, means of boosting the trade of agricultural products and the creation of a free trade zones with the Customs Union of Russia, Belarus and Kazakhstan.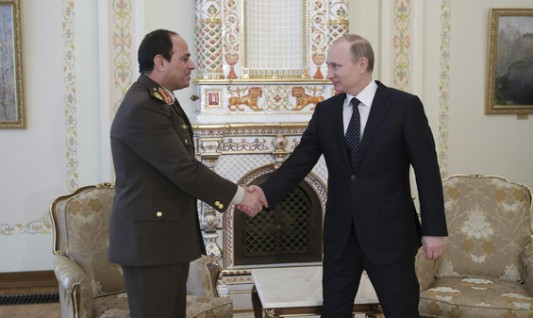 Ties between the two countries became stronger after the ousting of President Morsi from power. President Vladmir Putin did openly support Al-Sisi's decision to run for presidency.
Reports from the Kremlin website stated that Russia and Egypt are "actively developing military technical cooperation" as signed in a corresponding protocol in March. Russia will be supplying Egypt with "24 Mikoyan MiG- 29 fighter jets, as well as its Kornet anti-tank missile systems, attack helicopters Kamov Ka-25, Mil Mi-28 and Mi-25."
It can be recalled that after the last year's coup d'état led by Al-Sisi, the U.S suspended some of its military aid to the country. Saudi Arabia and the United Arab Emirates provided funding for Egypt to purchase arms from Russia. Since then, Moscow has been dedicated to boost its reach in the Middle East and ties with Egypt as relations between the US and Al-Sisi's government have been tense.
Agreements have also been reached during the discussions to establish a Russian industrial zone as part of the Suez Canal expansion project and cooperation between Egypt and the Customs Union of Russia, Belarus and Kazakhstan. The setting up a free trade zone and an Egyptian logistics center on the Black Sea are being considered.