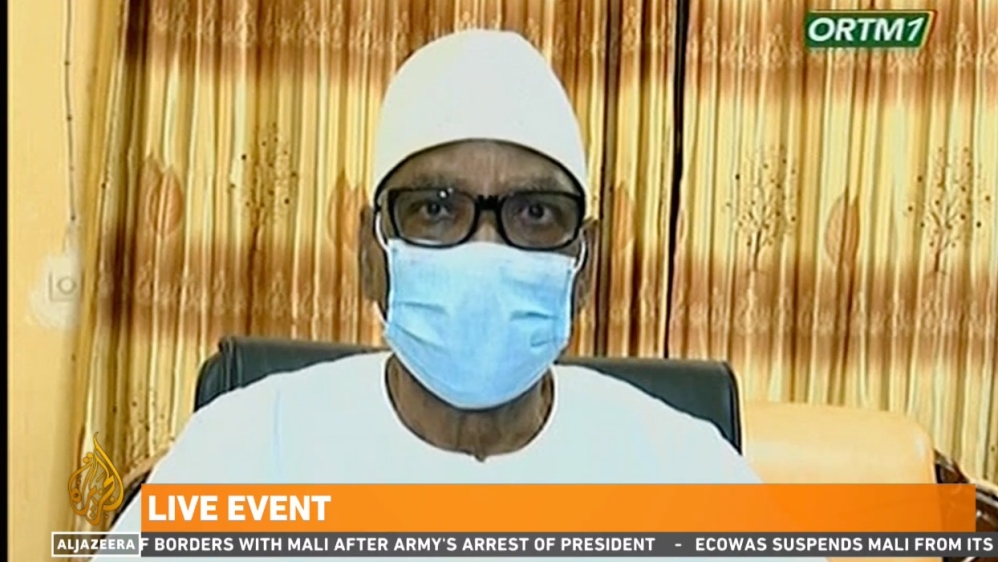 Malian President Ibrahim Boubacar Keita announced on Tuesday night his resignation and the dissolution of Parliament following his arrest earlier in the day by mutinous soldiers.
President Keïta, arrested in the company of his Prime Minister Boubou Cissé in the late afternoon and taken to the military camp from which a mutiny had started earlier in the day, appeared around midnight on public television ORTM, wearing a mask over his mouth.
"…I would like at this precise moment, while thanking the Malian people for their accompaniment throughout these long years and the warmth of their affection, to tell you my decision to leave my functions, all my functions, from this moment on", declared President IBK. "And with all the consequences of law: the dissolution of the National Assembly and that of the government". Many reactions follow.
At the international level, there were many reactions on Tuesday 18 August condemning the arrest by mutineers of Malian President Ibrahim Boubacar Keïta, which led to his resignation during the night.
In the evening, before President Keïta announced his resignation, the Economic Community of West African States (ECOWAS) condemned the overthrow of Malian President Ibrahim Boubacar Keïta and his Prime Minister by "military putschists", demanding their release and announcing immediate measures, including the closure of borders and a halt to all economic, commercial and financial flows and transactions. The communiqué announces that Mali is suspended from all ECOWAS governing bodies until constitutional order is restored. And undertakes to punish the mutineers and their supporters. A videoconference of ECOWAS Heads of State on "the situation in Mali" will be held on Thursday under the chairmanship of the President of Niger, Mahamadou Issoufou.
The African Union, through the Chairperson of the AU Commission, Moussa Faki Mahamat, had also "strongly" condemned the arrest of Ibrahim Boubacar Keïta
For his part, the head of European Union diplomacy Josep Borrell condemned "the coup attempt underway in Mali".
A meeting of the UN Security Council is to be held on 19 August on the subject. Finally, UN Secretary-General Antonio Guterres called for the "immediate and unconditional release" of Malian President Ibrahim Boubacar Keita, who was arrested by rebel soldiers.
Same message from the United States: Peter Pham, the American emissary for the Sahel, opposed in a message published on Twitter "any extra-constitutional change of government, whether in the street or by the defense and security forces".
The military called for a civilian political transition leading to elections. They announce the establishment of a National Committee for the Salvation of the People and assure that all international agreements will be respected.